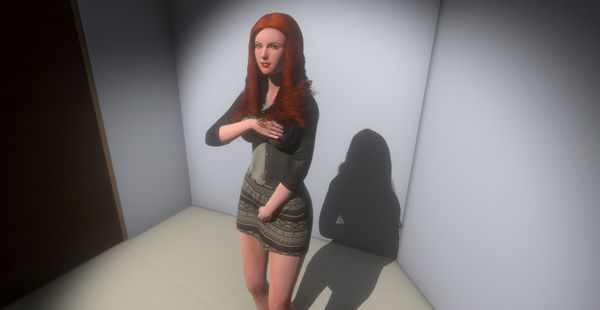 A variety of women will come to your office looking for a modeling career. Your job is to rate them based on looks and personality. Over time, your rating changes females showing up, Example: rating 10/10 -big chest females- will cause more -big chest females- to show up (same goes for promiscuity). This Improving effect only happens on certain days of the week.​
Developer: T Valle Patreon
Censored: No
Version: 0.8.3B
OS: Windows
Language: English
Genre: 3D Game, Male protagonist, Oral sex, Big tits, Vaginal Sex, Anal Sex, Animated, Big Ass, groping, Internal view, POV, Spanking, Stripping, Teasing
v0.8.3B
– Nine different sets of moaning and orgasm sounds have been added.
– All moaning and orgasm sounds are lip-synced.
– Updated unity version.
– Updated HDRP version.
– When females are estimated, there should be a little more facial expression.
– Voice volume control is added. -Breathing volume control is added. Fixes
-Custom poses: Dragging bone mode is finished before ending pose editing mode.
Minor bug
– The dental lip animation was not executed.
– Some mouth gestures were being performed incorrectly. –
– "Can I" dialogues had some errors. -Genetics: The random generator was improved on genes using indexes. These genes are: hair type, eye type, skin type, eyebrow type, etc.
-Genetics: The random generator was using default values of zero on many genes.
Notes
I've left a lot of work unfinished from earlier updates, and it's time to resume bug fixing. I'll build more features, but they won't be as difficult as implementing sounds, which is a rather difficult subject for me.
Caution: this version is no longer compatible with save games from past versions
DOWNLOAD
https://anonfiles.com/58j08dE5x8/0.8.3_b_rar
https://mega.nz/file/BBgDkIib#P4tpqq-1moUg9CLHIBYBiRVYPIzY28T2ZJHlWk14OWo
https://mixdrop.co/f/qlzg876jbx8e477
https://workupload.com/file/QzbRXu7Dn4q
Custom Poses Prototype
https://pixeldrain.com/u/ggfoEcqY
https://uploadhaven.com/download/673203f6973cf8c5e867023178649857